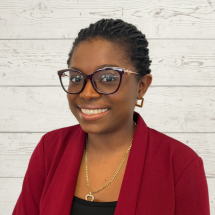 Berdhie Rosa Canegie Lebrun
Berdhie is an Intake Clerk at ACT. Berdhie holds a Bachelor of Science in Biology, an Associate of Science in Medical Assisting and a Bachelor of Science in Neuroscience and Mental Health. She is currently working towards a Master of Counselling Psychology. Berdhie is fluent in English, French and Haitian Creole.
Berdhie has worked in the medical field for many years. Previously, she worked as a medical assistant, ward clerk and receptionist. She has experience in taking vital signs, performing EKG and various clinical tests such as urinalysis, school and work physicals and strep and influenza tests. She also has customer service experience in technical support. Berdhie enjoys being with kids as they bring so much joy with their uniqueness. She also works with kids of all ages through different volunteering programs.
"I chose to work at ACT Learning Centre due to the attractive work environment. Their mission and the services they provide have an amazing impact on a community that needs an incredible amount of support. The opportunity to be a part of serving the community and the kids in need was a driving force in my decision."
If you could visit anywhere in the world, where would it be?
Bora Bora
If you could have any exotic animal as a pet, what would it be?
Koala Bear
If you had to eat one food for the rest of your life, what would it be?
Haitian meal called Fritay (fried plantains, pikliz, fried goat/chicken/fish)
This post is also available in: French